For Liberty Girls this semester, we are reading and doing activities based on the book "Little House in the Big Woods" by Laura Ingalls Wilder.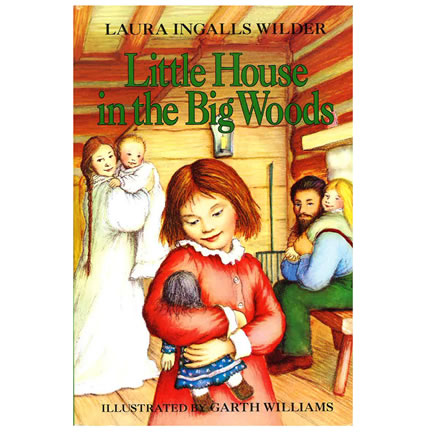 It is such a great book!!!!
Each semester in Liberty Girls we read a historical series or book about a certain time period, and meet twice a month and do activities based on the book(s). I've been helping some of the girls by sewing period costumes for them and their 18" dolls each semester as some of the moms of our group don't sew. (See here and here.) But this semester I decided I had better not try to sew more than my own daughter's outfit, and it is turning out rather fun! Each girl is coming up with their own outfits and they are all looking great! We'll have a family barn dance at the end of April and I'll take pictures of everyone then and post them here on the blog.
Since my daughter's favorite color is pink, that's what she wanted her pioneer dress to be! PINK!
Pretty cute, don't you think?
The pattern had pantaloons with the dress so I made them. I think they are cute but a little long. :)
She loves her American Girl doll!
We were going to read the "Kirsten" series from American Girl dolls this semester, but I have to say, I wasn't at all impressed with the series. Sure, it has some nice parts to it, but I felt the story line was quite mediocre and there were really no good values being taught. (IMHO, life is too short to spend time reading mediocre books!!!) So, last minute, right before the semester started, we switched to "Little House in the Big Woods!" You can't ever go wrong with Little House!!!
However, I did use for the Kirsten doll dress pattern and it can be found here:
http://www.agplaythings.com/AG%20Patterns/DollDressPatterns.html
Linking up with Quilt Story's Fabric Tuesday